Automotive polymers
Author Robin Conrad
Metal used to be the dominant material in the automotive industry – for bodywork, engines and interior parts. Those days are long gone. Today, about a third of the roughly 30,000 parts in cars are made of plastics. Four polymers account for over 70 percent of the plastics used in the industry: polypropylene, polyurethane, polyamide and PVC. Automotive polymers are the raw materials for the manufacture of automotive plastics. While all plastics are polymers, not all polymers are plastics. Plastics do not occur naturally; they are produced by chemical synthesis. By contrast, polymers may be either natural or synthetic. In this text, the terms automotive polymers and automotive plastics are used interchangeably, as they are in everyday use.
There are good reasons for the increasing use of automotive polymers. They offer enormous freedom in the design of interior and exterior parts, and they are durable, have good haptic properties, and are abrasion- and vibration-resistant. Moreover, they are easier to process and offer an improved price-performance ratio. Polymers have also received a big boost from the trend to lighter weight vehicles.
Since plastics are lighter than conventional materials, they help to improve fuel efficiency and could reduce greenhouse gas emissions. Together with good recyclability, plastics therefore play a part in meeting present and future sustainability targets. Both established and new polymers meet these challenges.
The rise of electric vehicles is placing new demands on components. For example, the demand for long-term heat-resistant plastics will increase.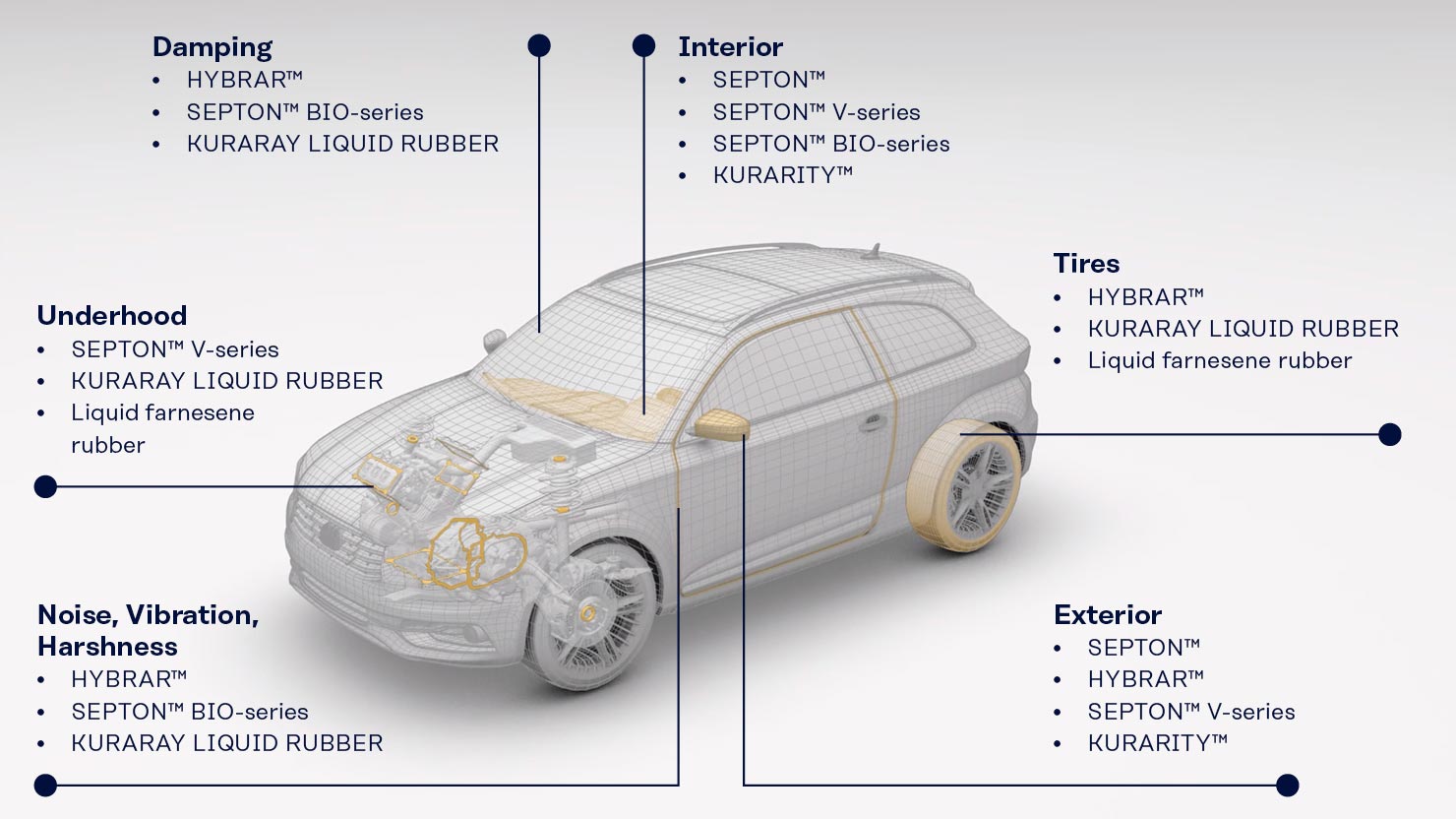 Polymers for automotive applications
Automotive polymers from Kuraray are used in a wide range of automotive parts. High-performance thermoplastic elastomers (TPEs) as well as liquid rubbers are found in tires, interior and exterior parts and engine components. Their reliable functionality, light weight, durability and wear resistance reduce emissions and help make driving safe and comfortable.
Meeting the challenges
The automotive industry faces high and constantly rising challenges: cutting noise and emissions, increasing safety and performance, reducing weight, and improving comfort. Kuraray markets a wide range of high-performance automotive polymers to help its customers meet the goals and specifications in their applications.
Kuraray is a leading supplier of HSBC-type thermoplastic elastomers (TPEs). TPEs combine the elastic properties of rubber and thermoplastics, so they can be processed into almost any shape. Kuraray's TPE products are recyclable, environmentally friendly, PVC-free and can be used without harmful plasticizers.
The challenges for the automotive industry are rising steadily. The automotive polymers marketed by Kuraray are geared to meeting the demanding standards for interior and exterior components, optimized design, greater comfort and fuel savings.
Tires
Tire performance is determined by three key parameters: grip, fuel efficiency and durability. There are tires for different needs: winter, summer and all-weather tires, ultra-high-performance tires (UHP tires), race tires, and special tires for commercial and industrial vehicles (planes, trucks, buses, agricultural machinery, TBR/OTR tires). Kuraray markets two automotive polymers for tires: KURARAY LIQUID RUBBER and HYBRAR™.
KURARAY LIQUID RUBBER offers advantages for tire geometry, dynamic tire properties, heat generation and processability. KURARAY LIQUID RUBBER grades function as reactive plasticizers but have far higher molecular weight than normal plasticizers. That reduces bleeding and soiling of molds. Other benefits of KURARAY LIQUID RUBBER are abrasion resistance, low migration, improved filler dispersion, the use of bio-based monomers and a low volatile organic compound (VOC) content.
Tires based on KURARAY LIQUID RUBBER have better grip on wet and icy roads. Generally, they ensure constant and lasting grip. Tires produced with this product have a long shelf life and optimized rolling resistance which increases fuel efficiency. Liquid farnesene rubber adds an environment-friendly dimension: The raw materials used to produce liquid farnesene rubber are based on sugar cane, a renewable resource that reduces the carbon footprint of this member of the KURARAY LIQUID RUBBER family.
Tires produced with our unique triblock co-polymer HYBRAR™, consisting of styrene and diene, remarkably improve the wet grip performance of winter- and all-season tires.
Those significantly improved properties are becoming increasingly important where a long shelf life and optimized rolling resistance are required, for instance in electric vehicles (EV).
Features and benefits
Longer lifetime of the goods due to higher quality
Low migration
Colorless, transparent and odorless
Improves production efficiency
Less energy consumption and tool wear during mixing process
Reduces electric power consumption and tool wear to save money and increase the lifetime in mixing process
Low Volatile-Organic-Compounds (VOC's)
Interior
Interior components made from automotive plastics have numerous benefits. They ensure lasting quality, a silky-smooth touch, and good haptic properties without tackiness. Other benefits are low oil migration, heat resistance, improved grip, and a lower compression set. Low oil migration reduces maintenance costs and increases stability and shelf life.
Kuraray markets automotive polymers for interior components and soft parts, including bass shakers for radio, dials and buttons, as well as injection molding solutions for cockpits and instrument panels. The following SEPTON™ and KURARITY™ series are suitable for these applications:
Exterior
Automotive plastics are used for many exterior applications, mainly to reduce weight. As well as improving fuel efficiency, they enhance comfort, safety, and vehicle handling.
Kuraray offers automotive polymers for exterior components such as side-view mirrors, roof rails and spoilers. All TPEs have very good processing properties, low compression set, high flowability and good impact resistance. Moreover, their versatility enhances design freedom. Injection molding can be used to produce large components.
Underhood
Many high-performance components made from automotive plastics are also found under the hood: in the drivetrain, engine and electronics. Automotive plastics are increasingly replacing conventional materials. Hoses and nozzles require high elasticity, while gaskets and grommets have to prevent oil leakages. The shift to electric vehicles brings new challenges and changes the properties required, e.g. heat-resistant plastics.
Kuraray's automotive polymers can be used as a substitute for natural rubber in hoses. This reduces waste and cuts production time for gaskets by using injection molding. Unlike rubber, no crosslinking is required.
SEPTON™ V-series is used for injection-molded parts for the use in underhood applications. Crosslinked SEPTON™ V-series exhibits excellent heat resistance, long-term compression set and oil resistance while keeping its good rubber-like properties and good low temperature properties, due to the crosslinked hard block. Compared to standard grades of SEPTON™, SEPTON™ V-series significantly improves the heat resistance of styrenic thermoplastic elastomers.
KURARAY LIQUID RUBBER is used under the hood in rubber compounds in EPDM rolls and rubber parts/goods in general. KURARAY LIQUID RUBBER can be used as reactive plasticizers but have far higher molecular weight than normal plasticizers. They are co-vulcanizable and reduce migration significantly which improves the product's shelf life and wear resistance. They reduce Mooney viscosity, which minimizes migration while improving the processability of the rubber compound.
In addition, KURARAY LIQUID RUBBER also has a positive effect on the rubber compound in other ways:
Noise, Vibration, Harshness (NVH) and damping
Unwanted noise, vibrations and harshness (NVH) can be disturbing in vehicles. NVH can be caused by many factors, including windshields and side windows, and the seals on doors, trunks, etc.
Automotive polymers from Kuraray help reduce NVH. KURARAY LIQUID RUBBER is well-known for its damping properties. For automotive adhesives Kuraray has developed selected polymers with diverse functionalities. KURARAY LIQUID RUBBER can be incorporated into adhesive and sealant formulations for sharp property modifications. In specific cases, KURARAY LIQUID RUBBER can also be used in primary components. These properties lead to longer product life times with enhanced sound and damping performance.
In the past, bitumen mats were widely used in the automotive industry for noise insulation and damping. Automobile manufacturers are now increasingly replacing this solution with a fully automated sprayed-on damping compound. Compared with individual mats made of bitumen, a liquid-applied compound offers significant advantages: it can be applied reproducibly and reliably by robot, is more efficient than the manual attachment of conventional bitumen mats, offers excellent acoustic performance and requires less storage. A key advantage is the lower weight. This makes these materials an important component of lightweight automotive construction, helping to reduce fuel consumption and CO2 emissions. They are a future product with great potential for the automotive industry.
Low noise levels inside vehicles are important for comfort. Noise damping and noise reduction are therefore major applications for automotive plastics in vehicle interiors. HYBRAR™ thermoplastic elastomers have excellent damping properties over a broad temperature range. This gives them a better damping performance at the lower frequencies in the human hearing range.
Light guides
Ideally, light guides for car interiors should generate uniform luminescence as well as being flexible, easy to adapt to different shapes and, last but not least, durable. That is the key to high design freedom, customization and an optimum ambience.
The acrylic polymer KURARITY™ meets all of these demands. It is used, for example, to produce light guides with a reflection layer that controls the direction of light emission and increases luminance.
Sustainability
As a specialty chemicals producer, Kuraray is aware that it has a responsibility to protect people and the environment. Sustainability is important to Kuraray and has a firm place in its corporate culture.
Efforts by the automotive industry to meet current and future emissions targets are increasing the use of plastics. At the same time, automotive plastics help avoid waste and can be recycled.
Sustainability has many aspects. For example, using TPEs instead of rubber reduces waste because TPEs are far easier to recycle. Lightweight engineering is essential for electric vehicles. Here, TPEs are an environmentally friendly alternative to PVC. Kuraray's products have a low release of volatile organic compounds (VOC), which can cause an unpleasant odor. Moreover, Kuraray is also working with other companies on solutions for a circular economy. Building on its expertise, Kuraray is contributing materials for the development of new, recyclable raw materials.
Two bio-based polymers highlight Kuraray's commitment to sustainability:
Liquid farnesene rubber is mainly used in tires to enhance their properties and increase their bio-based content.
SEPTON™ BIO-series, a new family of hydrogenated styrene farnesene block copolymers (HSFC), extends Kuraray's range of TPE materials to include products based on natural, renewable raw materials. The products in the SEPTON™ BIO-series are synthesized from ß-farnesene, a renewable monomer obtained from sugar cane. Applications include noise damping, and automotive interior applications.